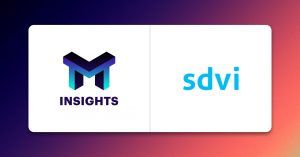 SUNNYVALE, Calif. — Oct. 19, 2021 — SDVI, the leading platform provider for cloud-native media supply chains, today announced a new Rally platform deployment partnership with TMT Insights, a professional services and software development company with strong expertise in digital supply chain implementation for Fortune 500 companies. The partnership leverages the implementation and professional services expertise of TMT Insights to accelerate integration and deployment of the SDVI Rally media supply chain platform and to assist customers in optimizing their implementation and management of the platform.
"Our relationship with TMT Insights ensures that customers who need design and deployment assistance when modernizing their media supply chains can work with a trusted partner, validated by SDVI," said Andy Brinck, vice president of alliances for SDVI. "TMT's expertise with our Rally platform, and the company's ability to provide the kind of services that our customers need, will accelerate the design, deployment, and optimization of their cloud-based supply chains."
Combining a wealth of experience and specialized skills within media and entertainment, digital, and cloud technologies, TMT Insights offers industry-leading services such as strategy and CXO advisory, cloud transformation, process and workflow re-engineering, and development services. Committed to supporting this new partnership with SDVI and to ensuring value for Rally platform users, TMT Insights has invested in building the skills required to design, develop, sell, and deploy Rally solutions with confidence.
Funimation Global Group and Anuvu, the leading provider of high-speed connectivity and entertainment solutions for aviation and maritime, have already taken advantage of the partnership between SDVI and TMT Insights to accelerate their implementation and migration of workloads to the Rally cloud-based platform.
"As the global leader in anime, Funimation needs deep insight into our fandom, and the technology and data we use, maintain, and employ is critical to our success," said Rahul Purini, COO, Funimation Global Group. "With TMT's expertise and the capabilities of the Rally platform, we have a partner who understands our business and can help us achieve our fan-first growth."
"I am thrilled to see two partners that are critical to the success of our business come together and further their strategic collaboration," commented Terri Davies, SVP of Content & Media Services at Anuvu. "SDVI and its Rally platform have been a critical piece of Open™, our cloud-based media supply chain. The company's new partnership with TMT Insights better enables us to meet the growing challenges of our rapidly changing industry. With the guidance and support of TMT Insights, our team has the agility we need to remediate challenges, accelerate development, and innovate how we provide cutting-edge and scalable connected entertainment solutions to global audiences."
The SDVI Rally media supply chain platform deploys all the applications and infrastructure required to create a dynamic, responsive media supply chain in the cloud. In addition to freeing users from traditional infrastructure constraints, Rally empowers business leaders to make smart business decisions quickly and accelerate time to revenue. TMT embraces the power of collaboration and works with SDVI and its customers to drive greater efficiency, agility, and value.
More information on TMT Insights is available at https://www.tmtinsights.com/. Further information about the SDVI Rally platform is available at https://www.sdvi.com/platform
.
# # #
About SDVI
SDVI is an Emmy® Award-winning supplier of cloud-based media supply chain technology that empowers organizations to optimize content ingest, processing, packaging, and distribution operations. The company's Rally media supply chain platform helps organizations create a scalable and responsive infrastructure that provides true business agility, operational efficiency, and process intelligence. SDVI is a privately held company based in Silicon Valley, California, with offices in the U.S. and Europe. www.sdvi.com
About TMT Insights
TMT Insights is a professional services & software development company delivering leading capabilities in digital supply chain including media content management, cloud technology, and SaaS / D2C experiences to Fortune 500 companies. Combining unmatched experience and specialized skills within the media & entertainment, digital & cloud technology space, our team offers industry-leading services such as strategy and CXO advisory, product ideation & innovation, cloud transformation, process re-engineering and development to our partners.
​As early adopters of new technologies, we embrace the power of collaboration and work with our partners to combine our guidance with action to further drive efficiency, value, and scale to their communities. To learn more about TMT Insights please visit www.tmtinsights.com.
Photo Link: www.wallstcom.com/SDVI/TMT_Insights_SDVI_Social Graphic.jpg
Photo Caption: TMT Insights and SDVI Logo Compilation
SDVI Contact
Rose Sponder
Director of Marketing
Tel: +1 530 263 1644
Email: rose.sponder@sdvi.com
Agency Contact
Sunny Branson
Wall Street Communications
Tel: +1 801 266 0077
Email: sunny@wallstcom.com