Supporting FAST Channel Delivery
FAST (Free Ad-supported Streaming Television) channels present media companies with new opportunities to monetize content, but also pose challenges in terms of how to meet the demand for channel content.
Those opportunities require media companies to process vast amounts of content while minimizing upfront investments. In this new Solution Brief, we illustrate how SDVI Rally media supply chains, leveraging the right 3rd-party application services, provide a highly-automated approach that enables new FAST channels to be stood up quickly, scaled as viewership grows, or torn down if the concept is not meeting expectations.
Supply Chain Thinking:
Improve Margins, Reduce Risk: Drive FAST Channel Content Prep With Your Media Supply Chain
Free Ad-supported Streaming TV (FAST) channels are gaining popularity with today's viewers, offering them the free content they want in a lean-back experience reminiscent of traditional linear television.
According to the latest industry report from Amagi, a leader in cloud-based SaaS technology for broadcast and connected TV (CTV), demand for free content is driving growth of FAST. Amagi's Quarterly Global FAST Report also notes that the U.S. is the leading FAST market overall, standing at a connected TV (CTV) penetration rate of 80.6%. FAST channel revenue grew almost 20 times between 2019 and 2022, and it is set to triple between 2022 and 2027 to reach $12 billion, according to Omdia.
So, it's no wonder that more media companies are eager to explore the possibilities of FAST channels for monetizing their content archives and engaging broader audiences. FAST channels have the power to bring new life to those archives. In addition to being infinitely programmable, FAST channels can be highly targeted in terms of topic or interest area. Media companies can provide niche programming from their libraries to smaller groups of interested viewers while offering original or first-view content to larger audiences on their premier linear or subscription services.
While FAST channels offer a fresh way to leverage owned assets, these channels operate on slimmer margins, and media companies must move content through processing and preparation – think "uprezzing" from SD to HD and managing metadata – to delivery as quickly and economically as possible.
The more these processing steps can be orchestrated and automated as part of an optimized media supply chain, the better a media company can maximize the revenue potential of content delivered via FAST channels. In the blog, we explore how media companies working on the Rally media supply chain management platform have the agility to embrace the opportunities opened up by FAST.
From Our Technical Solutions Team:
Replacing Providers in Rally

Richard Kennedy, Technical Account Manager
In a media landscape where technology is constantly advancing, we need to always employ the best tools to stay competitive and be ready to change when these tools become outdated. Rally provides customers with an array of tools, called providers, which can perform a multitude of tasks, from file transcode, and QC to file import and export. New versions of these providers are always being released by our Application Service vendors, and SDVI is constantly evaluating these new versions and tools to ensure they perform to the highest standard expected by our customers.
Often, as these new tools are introduced, the vendor will 'end of life' (EOL) the older version. In a hardware-centric environment, EOL presents challenges which might include the purchase of new hardware and software as well as testing to ensure that the tool functions as expected. As more tools come on the market, this procurement process can be an increasing burden on your technical staff.
Fortunately, because Rally is a cloud-based solution, changing providers is far more straightforward. Typically, the steps are:
From the ecosystem of Rally-supported providers (illustrated below), determine which new provider you want to use.
Tell your TAM which provider you've selected: he or she may need to ask a dev-ops engineer to add this provider to your silo. Rally can also provide a license where possible to help evaluate and validate functionality.
If the new provider is not in the list of supported providers in Rally, a feature request will be raised to notify product management that a new provider has been requested.
Determine the parameters you want use for this new provider. If you are already familiar with the new tool, you can do this yourself. Otherwise do this in consultation with your TAM. Once the parameters are defined, give this profile information to your TAM.
After your TAM configures the parameters on the new provider, you are ready to create a new preset for it.
It's that simple.
If you'd like to find out more about how new providers can make your Rally media supply chains smarter, more agile, and more efficient, reach out to your TAM or solutions architect.
New in Rally:
Asset Hierarchies have been added to the Rally Platform. Based on asset metadata, customers can now see their catalogue in a new Asset Hierarchies browser.
Many different hierarchies can be configured in the Rally system, allowing, for example, separate hierarchies for cinematic and episodic content. The configuration simply points at the metadata fields that store relevant information (show name, episode number, season number, etc) and the hierarchies are built out dynamically. This means the hierarchy structures can be changed and edited without the need to migrate data on millions of assets: Rally simply uses the metadata already in place.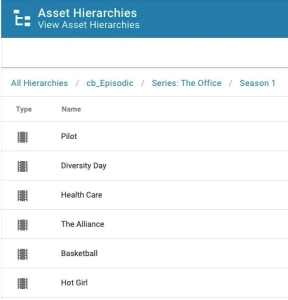 The Asset Details page can show the place of an asset in the hierarchies and also offers an expander which shows any sibling assets, allowing users to browse the hierarchies from within the Asset Details page.


Application Spotlight

PixelStrings from Cinnafilm
PixelStrings is the award-winning media transformation platform that provides access to all of Cinnafilm's image processing magic and best-of-breed partner technologies, in a single render.
Standards/frame rate conversion
Retime assets (audio, video, and captions) to meet any delivery runtime (shorten or lengthen)
Up/down res SD/UHD
Up/down convert SDR/HDR
Legalize video to DPP, EBU, IRE specifications
Burn-in/process embedded and sidecar captions
Audio channel mapping, loudness correction, pitch correction and retiming
Up/down mix stereo/5.1 audio
Learn more about the full spectrum of best-in-class tools in the Rally Application Services Market.

Upcoming Events