Enhancing Visibility, Usability, and Efficiency
The SDVI Rally media supply chain platform is continually evolving to offer greater functionality for optimizing the preparation and packaging of media content, from ingest to delivery. Every quarter, SDVI completes multiple product feature sprints, and those sprints result in new functionality that is automatically made available to all users. The numerous updates to Rally in Q2 2021 further enhance visibility, usability, and efficiency at the individual operator level and across the entire media supply chain, making it easier than ever for Rally users to scale the platform to support more users, teams, metadata, assets, and jobs.
Visibility
Together, updates across Rally improve visibility into what's happening in the Rally environment and provide greater insight into the status of assets across the system.
Job Flow Dashboard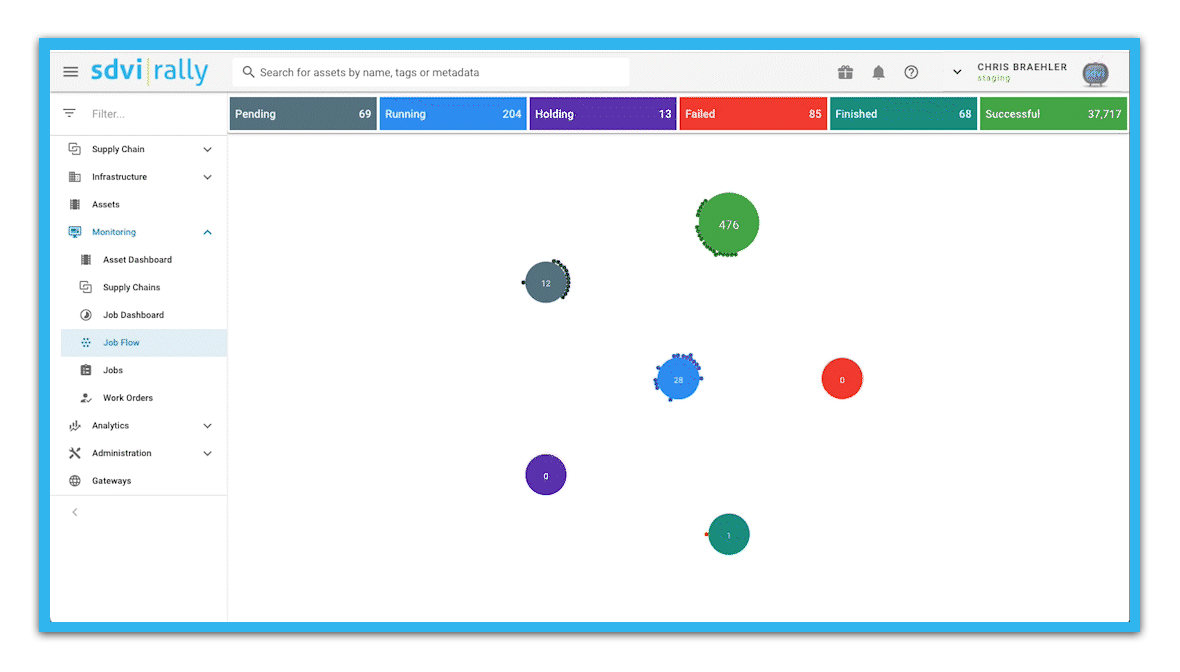 The Job Flow Dashboard uses an innovative approach to confidence monitoring that makes it easy to understand how well the supply chain is functioning, even when supporting thousands of jobs. The dashboard uses dots to represent each job in the system and a larger orb to represent each job state. Dots fly from orb to orb as they move between job states, and orbs expand and shrink accordingly as they absorb and release those dots. This intuitive representation of jobs flowing through the supply chain provides status visibility while reducing the overall burden of monitoring a high volume of jobs. Users gain instant insight into performance without being overwhelmed by data points, and they can drill down into the details if they see an issue with a particular flow.
Asset Dashboard and Asset Status
The new Asset Dashboard, which incorporates the Rally platform's Asset Page and new Asset Status feature, gives operators visibility into the status of any "in-process" asset. A grid view shows any asset currently part of a supply chain, and users can filter results to follow the progress of a particular asset, such as a high-profile show or series. Users can highlight that asset and monitor all jobs for that asset in more detail and in real-time. Rally's Asset Status detail now is available in its own widget on Rally Gateway, allowing users to build gateways showing just the information needed for a specific Gateway operator or role.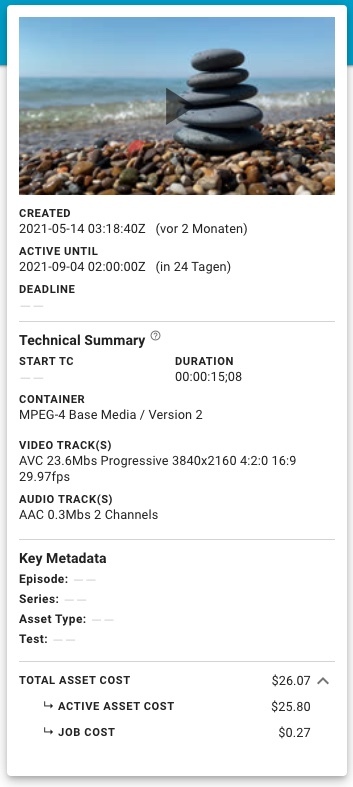 Asset Cost
Extending visibility beyond job status to job cost, the Rally Asset Details page now shows asset costs along with the total job cost for an asset and the total asset cost. This Rally update marks an important step toward a more granular cost management UI for Rally Assets to support more informed decision-making.
Usability: Metadata and UI
Metadata drives Rally media supply chain optimization, and ongoing updates to metadata management ensure that the platform can manage immense volumes of data without overwhelming the user. Enhancements to the Rally UI likewise ensure ease of use even in complex, high-volume operations.
Secondary Metadata in Asset List and Asset Picker
If five metadata fields are not enough in either the Asset List view in Rally Core or the Asset Picker in Rally Gateway, administrators can now configure "secondary metadata" that's available with a click to an expander icon. The update makes more information available to help identify an asset while keeping the UI space needed for each asset at a workable minimum.
Direct Access to SDVI Analyze Information for Any File in Asset Inventory
Operators wanting to verify technical metadata of a file inside an asset now can simply search the file in the Asset Inventory view in Rally Core (or Gateway) and then view and/or download the media analysis data generated by SDVI Analyze. Supply chain engineers can access Analyze information, including technical metadata, within the Decision Engine framework.
Asset Details Page Metadata Enhancement
The display of Asset Metadata and Supply Chain metadata on the Rally Core Asset details page helps engineers to find and verify data related to supply chain runs and aids in forensic troubleshooting. Because some of those metadata areas can grow large, the whole "tree" can now be completely expanded or collapsed easily. A simple search bar expands only those areas where matching terms are present.
If supply chain metadata becomes too large or too complex for the browser to render, Rally Core will now render as much data as it can, display a warning that the data is too large or too complex, and offer a way of downloading the metadata from the UI if necessary.
Rally Access Panel for Adobe Premiere Pro: Search by Metadata
Adobe Premiere Pro users can now search for workorders more quickly using asset metadata via the Rally Access panel. Inside Rally, administrators define the metadata fields that need to be searched, and the panel simply shows a corresponding search field.
Further Usability Enhancements: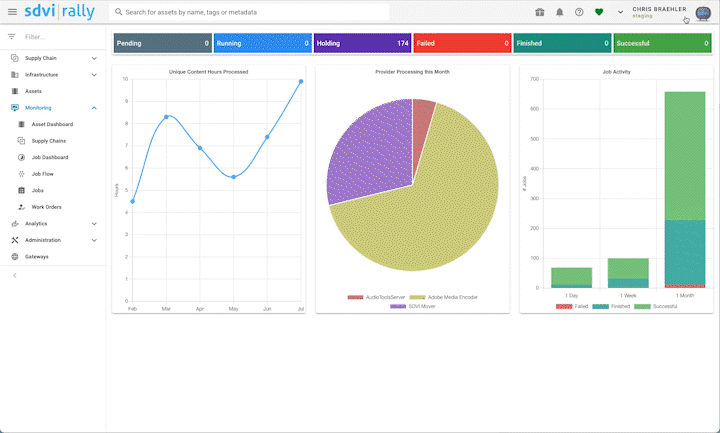 Dark mode
Configurable columns in Asset Inventory
Asset Status icons usability enhancements
Improved permissions editing
Improved image handling in Rally Gateway
Asset Inventory widget improvements in Rally Gateway
IMSC/TTML support in Accurate Player in Rally Access
Accurate Player support for audio-only workorders in Rally Access
Efficiency: Teams and Individuals
Updates to the Rally platform improve efficiency in a number of ways that, together, lower the cost curve even faster, helping users or teams to achieve lower per-unit costs and then share cost improvements across the entire organization.
Support for Multiple Teams
Large organizations with multiple teams using Rally for a combination of different supply chains often need a way to segment what they are doing from everyone else while simultaneously getting the benefit of shared infrastructure across those teams. Multiple-organization support now enables teams to have their own virtual Rally systems within the larger Rally implementation, enabling users to benefit from economies of scale while keeping all aspects of supply chains, assets, and jobs separate.
Gateway Metadata Schema Conditional Requirements
Metadata entry forms in Rally Gateway often involve conditional forms to simplify data entry and reduce errors. Rally's metadata schema language now supports required fields in combination with conditional fields, with forms adapting based on business rules. Required fields, or their required input, can now depend on values of other fields entered earlier in the schema.
Cloud-Native Leadership
The SDVI team continues to make it easier to work in the cloud and to manage assets in the cloud. Updates to Rally this past quarter add direct support for AWS functionality, allowing for even better usage and cost optimization.
Support for "Requester Pays" Functionality
Support for S3 Intelligent Tiering
Application Services Market
SDVI offers the most extensive ecosystem of application services, giving Rally users a selection of best-in-class tools with which to optimize both supply chain processing and cost. Two new application services were added to this ecosystem in Q2 2021 along with a key change to Rally users' Application Service licensing options.
Minnetonka ATS
Rally now supports Minnetonka ATS as a new transform provider. ATS enables audio loudness correction, mixing, and other audio-based operations.
Closed Caption Converter
Rally now supports the new SaaS version of Closed Caption Converter, which supports caption conversion from and to a large variety of formats.
Burst Logic for Application Service Instances
For short-term, high-volume processing jobs, Rally users that have licensed third-party tools themselves often want to control whether jobs actually burst to SDVI-owned licenses. To help customers fully utilize their capital investment in such licenses, Rally now offers control over when jobs actually burst to Application Service instances. When starting a supply chain in Decision Engine, customers can set a deadline — either a fixed time or a time-delta off the normal deadline of the job — before which the scheduler will not use Application Service-licensed providers. To ensure high-priority jobs get processed regardless of the license situation, this function applies only to jobs with a priority of normal or lower.
Contact us to learn more about any of these features or to have us walk you through a demo.