Many of the updates made to the SDVI Rally platform in the third quarter of 2022 bring enhanced control to engineers and other operators and make the platform even easier to use. As always, these factors continue to make workflows smarter and increase efficiency across media supply chains.
This past quarter, SDVI also has made numerous updates across its application services ecosystem to give users even greater choice in using the best tools to drive their media supply chains. We've not only expanded the ecosystem by adding new providers but also augmented and refined the Rally platform to support new functionality and use cases with existing providers. Through these continual updates, SDVI helps Rally users select and leverage the latest features and capabilities of best-in-class media processing applications.
Jump to:
Usability Enhancements
Jobs Page Configuration
Rally users can now freely configure which columns they see on the Jobs monitoring page and in which order. These settings are saved locally on the browser in use, which enables use of different layouts on different devices with different screens and resolutions. Settings are saved instantly and can be changed quickly for different tasks requiring different information.

New Asset Inventory
The Asset inventory view in Rally Core and Gateway UIs have been updated to allow for column resizing and reordering, as well as inline column selection. The display of Instances has moved into a new model that also allows for configurable columns. As a result, operators in Rally can dynamically see the important data in a constantly changing business environment, while Gateway administrators can now configure UIs to fit their operator needs in an even more granular manner.

Supply Chain Priority Changes
Rally or Gateway operators can now change the priority of a complete supply chain, not just an individual job, with a single action. This greatly improves operational efficiencies. Whether changing the priority of jobs or supply chains, operators now see a dialog informing them of the action they are about to take.
Asset Detail Widget Display Configuration
Gateway administrators can now configure both the information displayed in the Asset Details widget as well as the order of information. Allowing important details to be presented first, this change helps Gateway users find information more quickly and efficiently.
Rally Core: Preset Sorting Enhancement
The Preset page in Rally Core can now be sorted by "updatedAt," allowing Rally engineers to see presets with recent changes at the top of the list, as well as to sort by name and other parameters.
Quick Toggle for Light/Dark Mode
A convenient light/dark mode toggle has been added to the user menu in Rally, allowing operators to quickly switch between modes in case it is not set to automatic in the preference panel.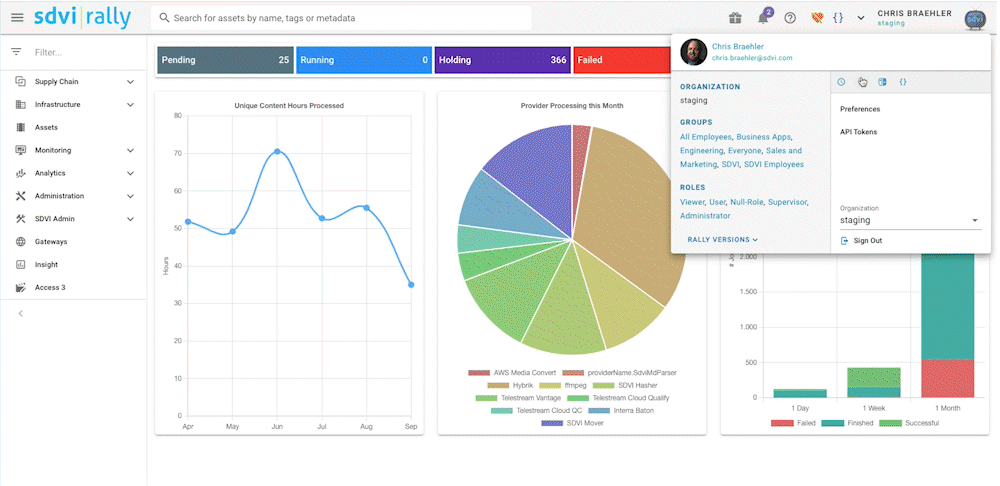 Rally Gateway: Increased Upload Speeds
Rally Gateway now supports faster direct https uploads to Amazon S3, without the need for external transfer acceleration software. Changes in how multi-part uploads are handled show up to 10x faster uploads in Rally Gateway, depending on users' internet connection.
Control Enhancements
Redesign of Supply Chain Certification
A recently completed redesign of Rally supply chain certification now allows engineers to automatically validate new versions of Rally, application services, and external systems against known good supply chain runs. After running a supply chain and verifying its result, engineers can mark it as a certified "golden run." Going forward, updates to any system that is part of the supply chain can be validated: run the same supply chain on the same files and verify its results — including all jobs run, files created, and metadata updated — against the golden run. The ability to certify in this manner gives engineers peace of mind and confidence that changes in a distributed and varied environment are not affecting execution and results.
Active Asset Report Changes
The Active Asset report information now includes charges that are billed in the upcoming and previous months, allowing data users to calculate the costs of assets using less report overhead, in turn enabling detailed cost reporting and allocation.
Allow Disabling of Emails
Rally supply chains can be configured to send out email notifications according to user presets, or when there's an error. However, in cases where internal security or network security teams do not want email to be automatically generated and sent, email notifications and creation of email notification presets can now be disabled system-wide.
Decision Engine: Selectively Update User Metadata
Rally engineers can now selectively update metadata fields in Decision Engine instead of replacing the complete metadata structure. This helps avoid concurrency complications and simplifies metadata operation as part of automatic supply chain execution.
Decision Engine: Access to Preset and Supply Chain Step
Rally engineers now have access to the preset and supply chain step at runtime, aiding with use cases in which dynamic decisions depend on the current step in and state of the supply chain.
Pre-signed URL Time Expansion
Role changes on the IAM role used by SDVI Rally to create longer-lasting pre-signed URLs have been documented. With changes to this role, pre-signed URLs provided by Rally via supply chain execution can now last up to 12 hours instead of only one hour.
Support for Subscribing to SNS FIFO Topics
Cloud messaging services play a vital role in cloud-native supply chains because, when asynchronous communication is enough, they make it possible to loosely couple multiple services rather than build bespoke integrations. Rally has supported these services, including SNS and SQS, from the start, in order to send and receive messages from systems such as legacy MAM, channel planning, traffic, and playout automation systems.
Rally now supports SNS FIFO queues, which are SNS queues that guarantee FIFO behavior for systems reliant on precise message ordering.
Application Services Updates
New Provider: Imagine SelenioFlex
Imagine SelenioFlex is a transcoding solution that supports a comprehensive range of formats with superior quality for applications from post-production and archive to multiscreen distribution.
New Provider: ColorFront Transkoder
SDVI Rally now supports ColorFront Transkoder, a dedicated 2K/4K HDR transcoding application that automates fast, high-quality digital file conversion for studios and VFX facilities involved in motion picture and high-end TV production.
Support for Dolby Vision Tools
Rally customers can now include their own Dolby Vision Command line tools into a Rally supply chains, enabling access to Dolby Vision video and metadata.
Support for Google VI Face Detection
The Google Video Intelligence provider has been updated to support face detection, enabling Rally users to leverage GCP ML services to enrich metadata with the celebrities and talent present in their content.
Support for OCR Text Detection in Rekognition
The Rally implementation for AWS Rekognition Video now allows for inclusion of OCR test detection, allowing customers to find and store text that is visible on screen. As a result, Rally users can now find content based on lower thirds, location overlays, and more.
Contact us to learn more about any of these features or to have our team walk you through a demo.