If there are any lingering doubts that media supply chains will ultimately be public cloud-based, the National Academy of Television Arts & Sciences (NATAS) has just put that question to rest with its 2019 Technology and Engineering Emmy® Awards announcement.
Our first two customers, Fox Networks Engineering & Operations (Walt Disney Television) and Discovery, have been honored with an Emmy, along with SDVI, AWS & Evertz for "Pioneering Public Cloud-Based Media Supply Chains". Their visionary thinking was instrumental in the development of the SDVI Rally platform, and this award is validation of their foresight.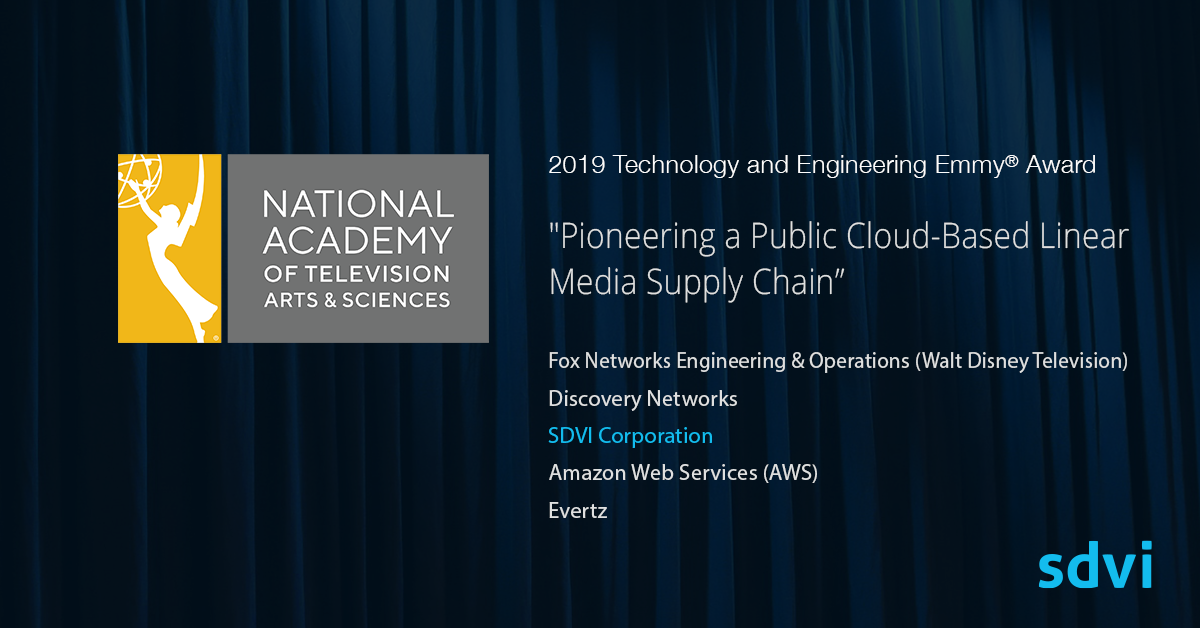 Both projects started in 2015 and began production in 2016. In the beginning, the notion of a public, cloud-native supply chain was compelling, but no major network had successfully migrated their supply chains to a public cloud. The conviction that it could be done – and that it must be done for the sake of each company's future – was a driving force behind the genesis of Rally. The need to significantly increase efficiency, shorten the deployment time for new services, and rapidly respond to changes were all top priorities. While no one can exactly predict how the media landscape will evolve over the next five years, it's clear that being able to efficiently adapt both operationally and financially will be critical.
SDVI is honored to have supported Disney and Discovery's efforts to fundamentally change their approach to infrastructure design and operation. We are particularly appreciative of the essential input we received from both companies throughout the Rally development process. Lastly, thank you to NATAS and the Emmy-committee participants for this recognition, and congratulations to all the Emmy-award winners.
For more information: