Supply Chain Accelerator from SDVI and TMT Insights delivers essential supply chain functionality in a ready-to-deploy solution
With a shared passion for helping media companies migrate their media supply chains to the cloud, SDVI and TMT Insights formed a partnership three years ago to accelerate that migration journey. Pairing the SDVI Rally media supply chain platform with the architectural and system deployment expertise of TMT, media companies have access to a combination of the leading cloud-based media supply chain platform with the expert resources needed to implement business and technical transformation.
"Following multiple successful deployments, we recognized that even the largest media organizations can benefit by starting with a simplified approach focused on essential use cases," says TMT Insights CEO Andy Shenkler. "We saw the need for a solution that provides a fast track to much-needed functionality, enabling organizations to accelerate time-to-production while maintaining the freedom to explore avenues for further modernization and optimization. And we knew that enterprise-level visibility across the media supply chain would be a vital component in reducing the complexity of real-world operations."
Leveraging this knowledge and their successful partnership supporting media organizations' shift to modern, cloud-based operations, TMT Insights and SDVI collectively created the Supply Chain Accelerator. Including all the components necessary to process content through the most common steps in modern media operations, the Supply Chain Accelerator builds on the Rally media supply chain management platform, the TMT Insights Polaris operational management platform, and supporting professional services from TMT Insights to accelerate time-to-production. It focuses all the power and functionality of Rally and Polaris to deliver a set of specific supply chains, right out of the box.
About the TMT Insights – SDVI Relationship
Since the two companies first partnered in 2020, TMT Insights has become the leading deployment partner for the SDVI Rally platform. In addition to building unparalleled expertise with respect to deployment services, TMT Insights developed the Polaris platform, which essentially sits on top of Rally to provide media operations users with valuable visibility and actionable insights into the many interconnections to other systems within the supply chain from a single pane of glass.
"The combination of Rally and Polaris has proved a compelling enabler for media organizations both large and small, and across a variety of key workflows," says SDVI CMO Geoff Stedman. "Whereas other solutions targeting cloud-based workflows enable a limited set of use cases, Rally and Polaris encompass the full gamut of media supply chain processes and use cases."
While Rally handles workflow orchestration, asset management, and third-party application integrations, Polaris surfaces title hierarchy, actionable work order and task information, and status reporting and analytics, creating a layer of visibility and serving as a single source of truth — or aggregate of it — for all the systems and assets orchestrated by Rally. The Rally Application Services ecosystem gives users instant access to a broad array of tools on a consumption basis, and Rally and Polaris together address the end-to-end media supply chain, providing both visibility and command over all of it.
Sky and international anime brand Crunchyroll, for example, both rely on Polaris along with Rally to enable end-to-end operational control and visibility across their global content supply chains. In terms of specific use cases, the Rally-Polaris combination already supports extensive cloud-based localization work along with full ordering and task management. In fact, localization is just one of four key use cases that media organizations can implement at speed, thanks to the Supply Chain Accelerator.
Fast Track to Ingest, Delivery, Edit, & Localization
"Our Supply Chain Accelerator allows organizations to move past the typical hurdles associated with implementing multiple pieces of technology and instead put a cloud-based media supply chain solution into production, right out of the box," says TMT Insights COO Hannah Barnhardt. "It's effectively a templatized engagement by which we can recommend best-in-class technologies that we've seen proven out and implemented. It's a go-to set of recommendations not just for Rally and Polaris, but also for the provisioning of other tools, such as QC and transcoding."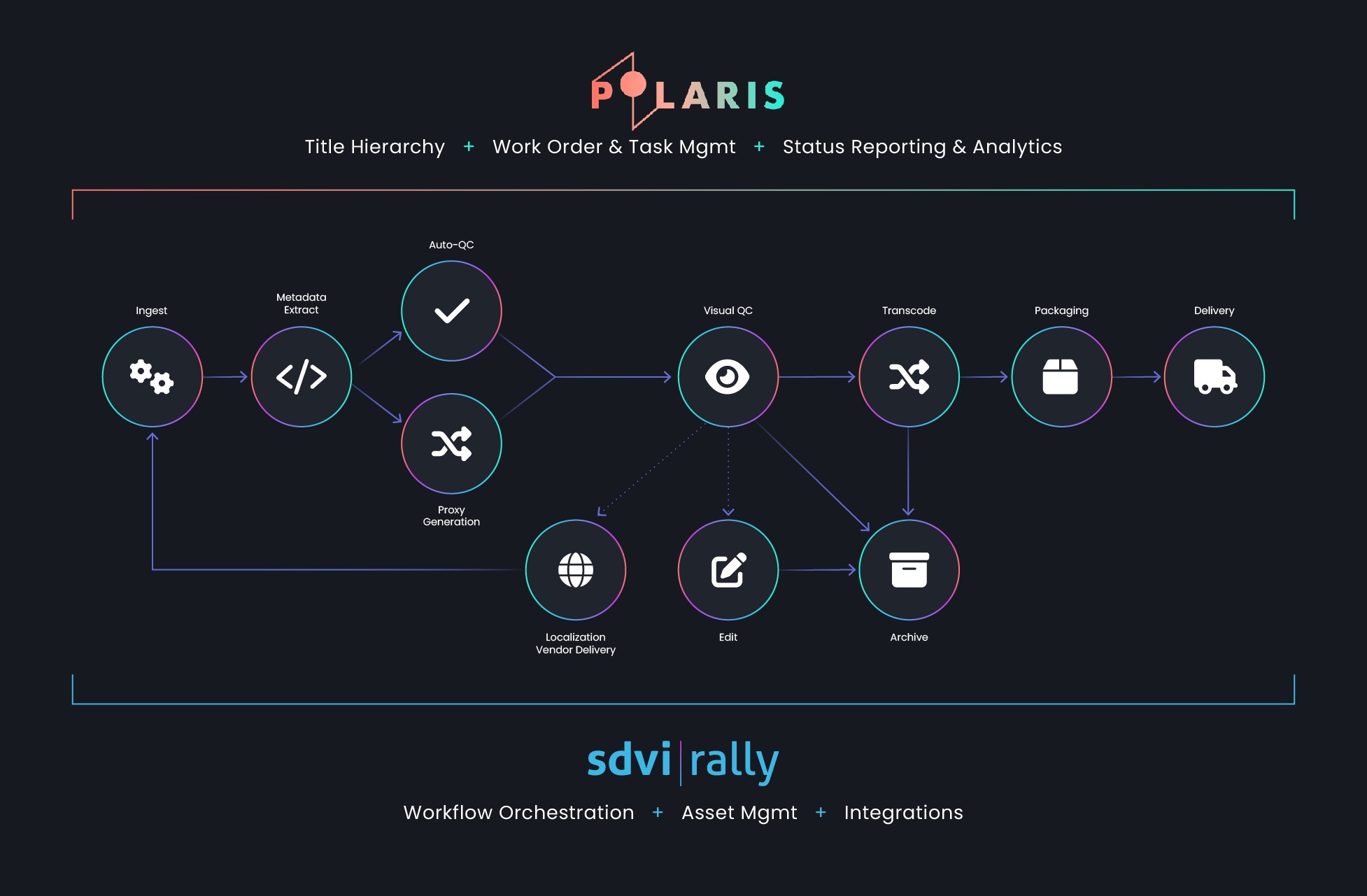 The Supply Chain Accelerator serves as a fast track for the migration of specific workflows to the cloud in an operationally friendly way. Reducing the transformational process for a key use case — ingest, delivery, edit, or localization — from months to weeks, the Supply Chain Accelerator can launch a media organization into more efficient, cost-effective, cloud-based operations in a fraction of the time typically required to make such a transition. In many cases, ingest is the recommended starting point. Once organizations get ingest going and the QC process automated, with content in the cloud, they open the door to many other use cases.
Whether for ingest, delivery, edit, and localization, the Supply Chain Accelerator pre-configures and bundles proven technologies that can be deployed and implemented quickly and in an operationally friendly way. Immediately, the organization can begin looking at problems and opportunities in new ways. With ingest, for example, rather than look at the million assets that need to go to the cloud before orders can be placed, an organization can place an order for delivery and allow that order to dictate how the catalog is built. As a result, it's not just deployment that's faster; ROI is faster too. That's why, within a matter of months, a media organization can begin to realize a material impact from putting this new cloud-based model into production.
Foundation for Future Growth
"Because all of the power and scalability of Rally are built into the pre-designed solution, media organizations that launch one use case with the Supply Chain Accelerator have the flexibility to refine and expand on that initial deployment however they see fit," adds Shenkler. "Even the largest of media organizations needs to start somewhere. With the Supply Chain Accelerator, they can begin to realize tangible benefits within a matter of months, and during this time undertake the work of educating personnel on the cloud and championing new ways of thinking and problem solving."
The Supply Chain Accelerator is immensely valuable in helping media operations get started with a cloud-based model, setting them up to add more use cases as their journey progresses. The initial implementation can serve as the foundation for future growth, whatever that may be, with compounding value as the media organization adds more use cases and connects additional systems. With Rally and Polaris effectively normalizing all of these systems within a single overall environment, the end-to-end supply chain becomes easier to manage and optimize.
This journey to a cloud-based model can yield tremendous benefits for a media organization, and now it can begin with a single step: deployment of the Supply Chain Accelerator from SDVI and TMT Insights.
—
If you're ready to find out how the Supply Chain Accelerator can kick start your supply chain migration, contact us to start the conversation.