Watch: How A+E Built a Supply Chain for Scale & Agility
If you haven't yet, be sure to watch Don Jarvis' and Dave Klee's talk at AWS re:Invent 2022.
In a remarkable recap of their journey to the cloud, Don and Dave shared how A+E Networks built a cloud-based media supply chain for scale and agility, starting with the original inspiration back in 2016 all the way through the evolution of their operations into 2022. The results they share are impressive: huge volume increases made possible by the elastic infrastructure of the cloud and by the use of supply chain techniques. It's been quite a journey, but from all accounts, it's been worth it.
Supply Chain Thinking:
Automating the Media Factory of the Future
Geoff Stedman, Chief Marketing Officer
The content produced and distributed by media companies is crafted through a highly creative process. But an immense amount of repetitive preparatory work also must be performed to make that content available wherever and whenever consumers want it. That's why, within the media factories that today prepare content for distribution, the assembly line has become an essential driver of productivity. It is vital to media supply chain optimization.
But how do you optimize a supply chain involving highly sophisticated steps that often require significant specialized capabilities?
The answer lies in automation and intelligent orchestration using advanced, high-performance software tools to handle a majority of the content preparation tasks in a media supply chain. With advanced software applications now capable of performing much of the work required, manual repetitive tasks can be automated, accelerated, and scaled to meet any level of demand.
Read on to find out how automation of your media factory can deliver increased efficiency, agility, and intelligence to help differentiate your business from the competition.
From Our Technical Solutions Team:
Smart Automation Transforms Supply Chain Effort 

Julien Gosnet, Senior Solutions Architect
SDVI customers are dealing with more content than ever, experiencing unpredictable bursts of activity. To be efficient in this environment, adaptable automation is a necessity. Automation can aid in quickly turning content around for dispatch, while still ensuring that critical processes, such as quality checks, are not skipped or missed. When you add Rally automation or automated decisions to supply chains, operators can do more with less effort, and Rally provides insight on daily or even hourly activity surrounding those media supply chains.
One example of automated decisions significantly reducing the time needed for operators and engineering teams to analyze content: "monitoring by exception". When Rally automates common functions, teams can focus just on the work that requires their attention: high-value tasks such as QC and edit, supply chain optimization, or remediation of critical supply chain issues. Operations teams move away from an all-hands-on-deck environment to a more orderly exception-based one. Rally guides operators to critical issues and concisely explains the error or issue that needs addressing.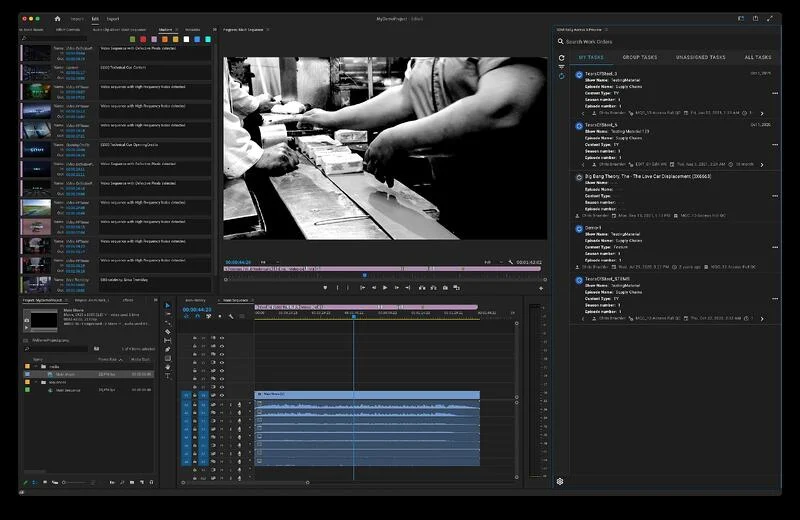 It is important to keep in mind that the value of automation doesn't end with the automation process itself. Rally allows the organization to capture and visualize data from both automated and human touch processes, The organization gets a clear picture of what is happening in the supply chain, can analyze pain points and cost data, see and resolve processing bottlenecks. The efficiency benefits extend beyond the team to the entire operation.
If you'd like to find out more about how Rally can automate elements of your media supply chain, reach out to your TAM or solutions architect.
Many recent updates to the SDVI Rally platform were designed to help operators do their jobs more efficiently. Implemented in response to customer input, these updates surface advanced job and workflow details, making it easier for users to find the info they need even within data-dense interfaces. When they no longer have to dig through multiple windows, users quickly access vital details that inform their work and drive workflows to completion.
Asset Table Widget
Rally Gateway now offers an Asset Table widget that allows users to browse assets in a very dense view showing asset info, metadata, and asset status in a table rather than a list. The widget enables complete configuration of the table columns and their data, and the data includes all direct attributes of an asset, such as creation date or deadline, as well as any metadata field and any asset status group. Search and filters are fully supported and can be configured in exactly the same way they are configured in the Asset Picker widget. Gateway administrators can use this new widget to build compact and dense status overviews, in turn allowing operators to check and verify assets and their status within the facility.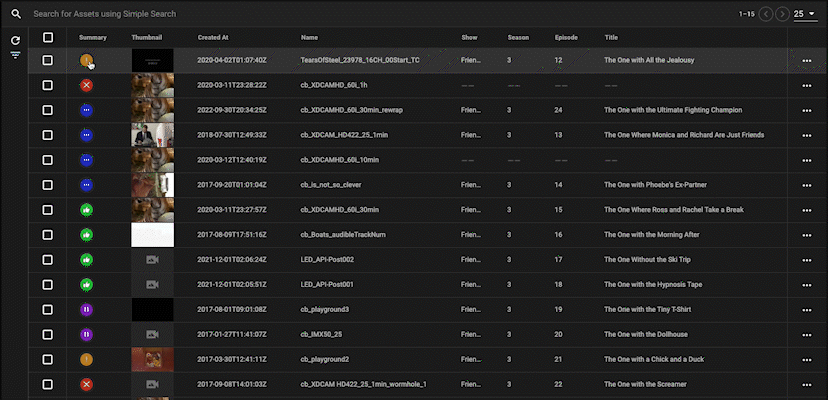 Asset Inventory Table
The Asset Inventory table now shows a rolled-up overview of where file instances of an inventory item are stored and their file-size. When the file is stored in multiple locations, the entry can be clicked on to show all of them. This allows for quicker access to data, especially for customers storing only one instance of an inventory item, as there is no need to open the file instance view.
Read the full list of updates made to the Rally platform in Q4 2022 in our latest Rally Update blog post.

Application Spotlight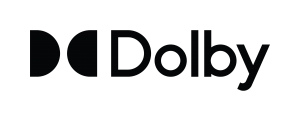 Hybrik from Dolby
When dozens of different versions are required for every piece of content — different sizes, bit rates, languages, and formats targeting desktop and mobile devices, as well as cinema and TV – Hybrik is a fast, high-quality, cost-effective solution that lets users easily generate all the files they need, using world-class technologies like Dolby Vision® and Dolby Atmos®.
Additionally, Hybrik helps reduce the time and people resources required to review the multitude of files produced, with automated media analysis and quality control that helps users ascertain whether content coming into your workflows meets your standards, ensuring the quality of every file you deliver.
Learn more about the full spectrum of best-in-class tools in the Rally Application Services Market.

Upcoming Events
NAB Show
Las Vegas, Nevada
Optimizing media supply chains for:
Content Ingest
Content Versioning
Content Processing
Content Delivery
Net-zero goals