As we near the end of 2022, it's a good time to look back at some big themes from the past year and think about how they will impact the media business in 2023. 2022 was certainly a transformative year in the media business. We saw ongoing industry consolidation and heightened M&A activity, highlighted by the combination of Discovery and WarnerMedia. This consolidation continues against the backdrop of concerns about media company profitability and the cost-cutting we are now seeing as these firms seek to bolster their bottom lines.
This past year also brought the "streaming wars" to a new phase, with media companies building direct-to-consumer services and consumers increasingly dropping their traditional pay-TV services. This move to streaming represents a profound shift in the way that content is delivered to consumers, and the deals haven't been limited to VOD. Top-tier live sports got into the game in 2022, as well. High-profile examples include Thursday Night Football moving to Amazon Prime and Major League Soccer signing a 10-year deal with Apple. Even linear TV is moving to streaming, as witnessed by the dramatic growth in FAST channels now available online.
Another significant shift in consumer consumption — the surge in global demand for content, no matter where it's produced — also proved to be meaningful for the media business in 2022. Consumers worldwide have an insatiable appetite for good content, and media companies have been racing to fill that demand with culturally relevant content that has been localized for each destination market. Looking to improve their profitability, media organizations have stepped up to monetize content across a broader array of geographic regions and markets while creating new audiences.
Profitable Growth
Looking ahead into 2023, we're seeing — across the industry — an intensified objective to maximize content ROI. Facing the new realities of the market, media companies have renewed their focus on profitable growth over growth at any cost. This fresh focus has them reviewing distribution strategies for the greatest monetization opportunity, renewing interest in B2B content deals, and pushing for expansion of global reach. Closely tied to these priorities is a recognition of the need to improve operational effectiveness, which naturally contributes to profitability. The interconnected cloud-based media supply chain plays a fundamental role in enabling these initiatives by capturing and transforming supply chain data into actionable intelligence that enables organizations to make smarter business decisions more quickly.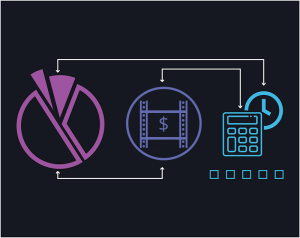 With access to extensive supply chain data, and with the benefit of reporting and visualization tools, leading media organizations are looking more closely at where they are spending their money, time, and effort. With specific information about the time and cost associated with the preparation of every piece of content — good cost information, visibility, and predictability — they are prepared to address new realities with the right choices to create profitable growth.
Going into 2023, they are asking tough questions about how much money they are actually spending in delivering content to a direct-to-consumer offering, then deciding whether the profitability of that offering is sufficient, or whether they must improve it. Are the right tools being used? Would the application of AI help to automate and offload time-consuming (and therefore costly) manual tasks within the supply chain? These are the questions organizations are now beginning to ask as they look at how to prioritize spend.
Operational Effectiveness
In conversations with partners and end users, we've seen a deeper focus on operational effectiveness. This was also the leading theme at the DPP Leaders' Briefing late in November. The interest in "internal alignment around more streamlined and efficient processes," as the DPP's event report defines it, is nothing new. From our perspective, it's a logical extension of an organization's initial supply chain transformation; once you have data to see your effectiveness, it's natural to want to improve it.
Deployment of cloud-based supply chains touches nearly every aspect of operations, including content management (production, distribution, and related data), organization management (people and process), and resource management (financial, labor, technology, and physical assets). Media organizations know that as they bring workflows to the cloud, they get immediate benefits — and that greater operational effectiveness is possible.
We're finding that organizations today totally understand the value of data, both metadata related to assets and granular data related to supply chain processes, in realizing the full potential of cloud media supply chain. They also understand the enhanced power of data across an interconnected media supply chain, where automation and orchestration can inform optimization across the media supply chain. As we move into 2023, we'll see more and more organizations successfully leveraging data more fully to drive their media supply chain and, in turn, move toward that operational effectiveness they now know to be so vital to profitability.
Increasing Global Reach
As they look at the year ahead, media organizations will seek to leverage their supply chain to get more content delivered to an increasing number of endpoints. A streamlined and efficient media supply chain will allow them to reduce costs for preparation and delivery of that content. With more efficient content preparation, media organizations also will be positioned to sign and deliver on deals faster and more cost-effectively. Why limit monetization to D2C services when they can expand their opportunities to include a much broader array of global partners and outlets?
Cloud media supply chains already serve as the scalable "factory" needed to process and sell content globally, and their value in this role will grow in 2023. We've seen an ongoing increase in captioning and audio processing jobs via the Rally platform, suggesting that customers with a core supply chain up and running are turning their attention to localization and internationalization of content. They are leveraging Rally and the cloud to improve the efficiency and scalability of these processes to support broader distribution to as many platforms and markets as possible. We expect to see more of the same as media organizations continue to emphasize broader monetization of content and expansion of their global reach.
Expanding Definition of Supply Chain
As content companies look for more distribution deals, the industry needs more advanced supply chains to feed those deals. That's why we're now seeing the definition of media supply chain expand beyond the borders of a single media organization to include interconnected companies: the partners that deliver content for processing, as well as the partners who receive content after it has been prepared.
With the media supply chain extending across multiple organizations, the level of efficiency and automation moves beyond factory automation and toward true supply chain logistics. In other words, the industry is coming to the point that the exchange of content between organizations can be automated. For companies trying to maximize their content ROI, it's a game-changer. While just a few media organizations managed these types of seamless content transfers in 2022, they will become a more common option for organizations across the industry as 2023 unfolds.
Getting Comfortable in the Cloud
In 2023 more and more media organizations will be ready for a next-level transformation of their media supply chain. Until recently, the question was, "How do I get into the cloud?" Now, even smaller companies are interested in moving larger workflows to the cloud as soon as they can. They are looking to do more in the cloud, and once there, they're asking how they can do better. They are interested in analyzing how well their infrastructure is being used and identifying further opportunities for optimization.
With that comfort level, some companies are recognizing value in the opportunity to "in-source" the preparation of their content, even as they outsource infrastructure and processing to the cloud. This capability shouldn't be underestimated. After all, if the world of video on demand and FAST channels is the future, a whole lot of content will need to be processed before it can be distributed to different endpoints.
Conclusion
As we see it, the evolution of the media market going into 2023 will require an operation capable of adapting to a changing environment quickly. Ideally, this means having the data, analytics, and visualization to optimize day-to-day operations and to identify and capitalize on beneficial business opportunities. That means having a cloud-native media supply chain to support growth through low-friction content deals and the efficient, scalable processing essential for the business to extend its global reach. Those organizations that embrace cloud-based media supply chains will be those that are best able to meet the challenges of the market, gain a competitive advantage, and ultimately rise to the top.