A majority of the updates to the SDVI Rally platform in Q4 2022 were designed to help operators do their jobs more efficiently.  Implemented in response to customer input, these updates surface advanced job and workflow details, making it easier for users to find the info they need even within data-dense interfaces. By eliminating the need to click down into multiple windows, users save time in accessing vital details that inform their work and drive workflows to completion.
In the final quarter of 2022, SDVI also introduced enhancements that boost user control, allowing for even more effective use of the Rally platform to perform critical operations, and continued expansion of the Rally Application Services ecosystem. These ongoing updates and enhancements enable users to optimize their workflows using the latest features and capabilities of best-in-class media processing applications.
Jump to:
Efficiency Enhancements
Asset Table Widget
Rally Gateway now offers an Asset Table widget that allows users to browse assets in a very dense view showing asset info, metadata, and asset status in a table rather than a list. The widget enables complete configuration of the table columns and their data, and the data includes all direct attributes of an asset, such as creation date or deadline, as well as any metadata field and any asset status group. Search and filters are fully supported and can be configured in exactly the same way they are configured in the Asset Picker widget. Gateway administrators can use this new widget to build compact and dense status overviews, in turn allowing operators to check and verify assets and their status within the facility.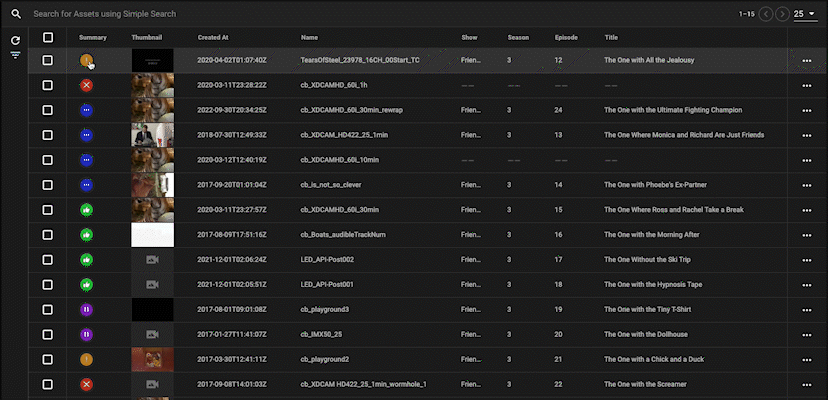 New Compact Resource-Viewer
Rally Core and Rally Gateway both now allow users to look at Rally resources such as presets or supply chain steps in a new compact read-only viewer. This enables operators to check preset configurations and rule settings without leaving the current context. For the first time, they have the ability to investigate presets and rules for Gateway users. As a result, operators in Gateway can find a job, check the preset for potential errors, and escalate their findings to an engineer, who can fix the preset in Rally Core.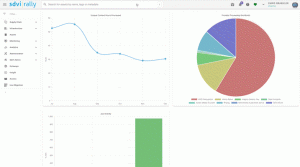 Rally Core: App Header Search Redesign
Rally engineers can now use a new larger app header search, bringing the organization filter panel to the header search. This allows users to access the full-featured asset search from anywhere in the Rally Core system.
Asset Inventory Improvements
The Asset Inventory table now shows a rolled-up overview of where file instances of an inventory item are stored and their file-size. When the file is stored in multiple locations, the entry can be clicked on to show all of them. This allows for quicker access to data, especially for customers storing only one instance of an inventory item, as there is no need to open the file instance view.

Jobs Page Enhancements
Users now can change the date range displayed on the jobs page without opening the filter slide-out. Operators can quickly cycle through months or specify the time frame in which they are interested. The jobs page now also supports relative time filtering, which allows users to save and recall more sophisticated filters. The list can also be filtered by provider instance. While filtering for provider type was available before, now it can be reduced to jobs running on a specific instance. This enables operators to identify jobs that ran on a specific version or a problematic instance when troubleshooting.
Configurable Filters in Job List Widget
In some cases, user groups using the Job List widget work only on a subset of the supply chains that Rally manages. To keep day-to-day work simple, filtering for that list must be limited to only those presets, providers, or other attributes that are essential to that group. The widget can now be set up to show only necessary filter fields and their values in the configuration portion of the widget.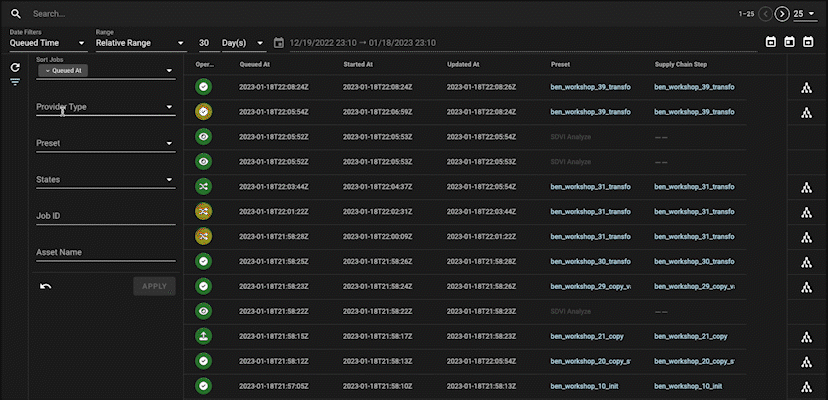 Enable Saved Searches on More Pages
In addition to the jobs and asset pages, Rally users can now save searches on the preset, rules, notification, supply chain monitoring, supply chain rules, and certification cases pages. With this capability, users can quickly recall commonly searched resources without the need to configure the filter from scratch every time.
Control Enhancements
Add Rekognition Job ID to Error Message
In case of an error in an AWS Rekognition job, Rally will now include the original Rekognition Job ID in the error message. This helps support staff with troubleshooting inside the AWS console, making it easier to relate jobs from the AWS console to Rally.
Allow Unthrottling of Providers on Non-production Systems
Users can now unthrottle SaaS providers in non-production systems. As throttling is a safety measure for SaaS providers against hitting potential API-rate limits when sending too many job retries, unthrottling should be performed only when the reason for job errors has been investigated and potentially fixed.
SDVI Mover: Support RSL as "externalStorage"
SDVI Mover can now be used to move files to a Rally Storage Location with the RSL: notation in the externalStorage portion of the preset used to prevent the resulting file to be tracked in inventory going forward. This is helpful where customers send files to external systems or partners, and where any changes to that new copy like renames or file removal does not need to be tracked by Rally operators or at worst, would even confuse or raise unwanted expectation messages.
Mover: Aspera Updates
An additional method for authenticating against Aspera on cloud has been added to Mover, strengthening the security posture of Mover. Also, presets can now utilize a "multiTransfer" setting for Aspera Node transfers. This will result in Mover batching several jobs into a single transfer job on Aspera so that the Aspera server is not overwhelmed.
Application Services Updates
New Provider: Evertz.io Transform
Rally now supports management of transform jobs for evertz.io Transform for users who already have an evertz.io account.
Support for Image Conversion
The Image Editor provider now supports conversion of images and color spaces beyond simple file type conversion.
Contact us to learn more about any of these new Rally platform features or to have the SDVI team walk you through a demo.