Automating and Simplifying Supply Chains
The SDVI Rally media supply chain platform gives media organizations the ability to do specialized, intelligence-driven work to prepare and package media content from ingest to delivery. Rally updates in Q1 2021 focused on simplifying the automation of supply chain tasks, improving the interaction with content assets, workorders, and supply chains, and adding new application service providers.
Rally Core
Media Supply Chain Management
An added layer of intelligence within Rally enhances usability, helping users to automate even more of their supply chains.
Rally Decision Engine
The Rally Decision Engine simplifies supply chain automation based on sophisticated business logic. Rally now exposes the granular functionality users need to build their own logic arguments for handling content — based on analysis of that content by the system itself. With this self-service option, internal supply chain engineers can quickly adapt and extend automation to address changing business and supply-chain requirements. The Rally software development kit makes it possible to run Decision Engine presets locally at the operator's desk, complete with access to asset metadata and other functionality, while developing and testing new presets.
Asset Page Enhancements
A new "dense" view on the Asset List page collapses Tags and Status to a single icon showing the total number of tags and status markers. The list view now shows the full timestamp and has been adjusted to fit more information on the screen and to improve scroll speed. Job History now features a Provider filter and job details are available in a full-screen view. The Supply Chain Visualizer on the Asset details page likewise supports and shows all supply chains available for visualization. Starred assets have returned, making it easier to find and select most-used or high-interest assets.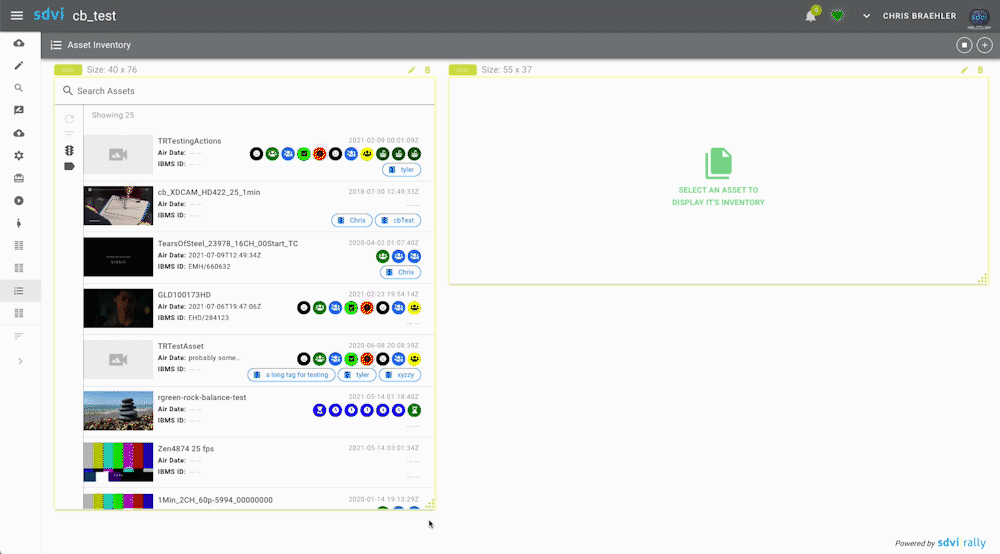 New "dense" Asset List view
Supply Chain Tracking and Instance Naming
Rally users can now include an identification descriptor when starting supply chains in Evaluate or via the API. This supply chain ID, which could reflect a delivery destination such as "Hulu" or "Netflix," assists in the identification of supply chain information by external systems. When used in the Supply Chain Visualizer, list view, or history view on the Asset page, as well as in usage-report data and job updates, the ID also adds clarity for the operator.
Rally Gateway
Media Submission and Management Portal for Supply Chain Users
Enhancements to Rally Gateway ensure that, within the highly automated Rally environment, operators are pointed directly to the assets and tasks requiring their time and attention.
Asset Picker Widget Updates
Updated to support the new features and user experience of the new Asset page, the Asset Picker shows asset status, primary metadata, and tags on the list view. Operators can prefilter on asset tags; disable/enable tags, status, and thumbnails, metadata and asset title display; and configure the search masks and default searches (now using the same search form language). A new compact view collapses tags and status icons if not enough screen space is available. Multiselect for integration into the Asset Collector is available both via keyboard shortcuts and checkboxes.
Asset Inventory Widget
The new Asset Inventory widget implements all features from the new File Inventory view of the Asset page, including filtering and searching, plus information about file instance locations and download. Operators can create a preconfigured filter on tags or labels to limit the file list in the Inventory widget so that files are easier to find and select. The widget also supports multi-select drag and drop for use with the Asset Collector widget.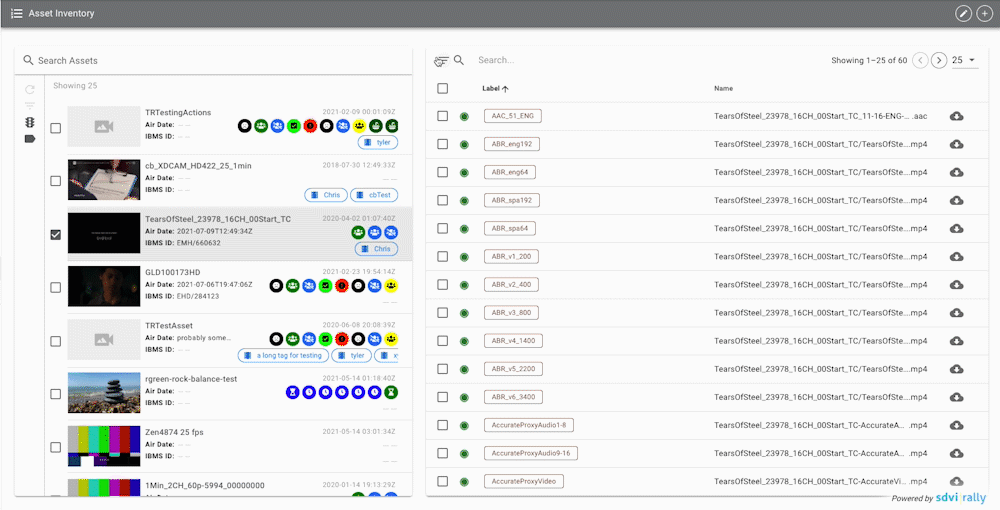 Asset Inventory widget in Rally Gateway
Workorder Widget
Rather than rely on asset names for identification, operators now can use asset metadata to search workorders and quickly find the work that is most urgent. Operators can build metadata filters in the Workorder widget to assist in searching on metadata fields or use the search bar to make advanced queries. New date range filtering options include start, updated, and deadline dates. Operators can
Download Workorder
When operators include a list, tags, or labels in the download section of a Gateway Workorder preset, only those files will show in the Inventory widget with a download button. As a result, the supply chain can automatically create operator workorders focused on downloading only specific files within an asset.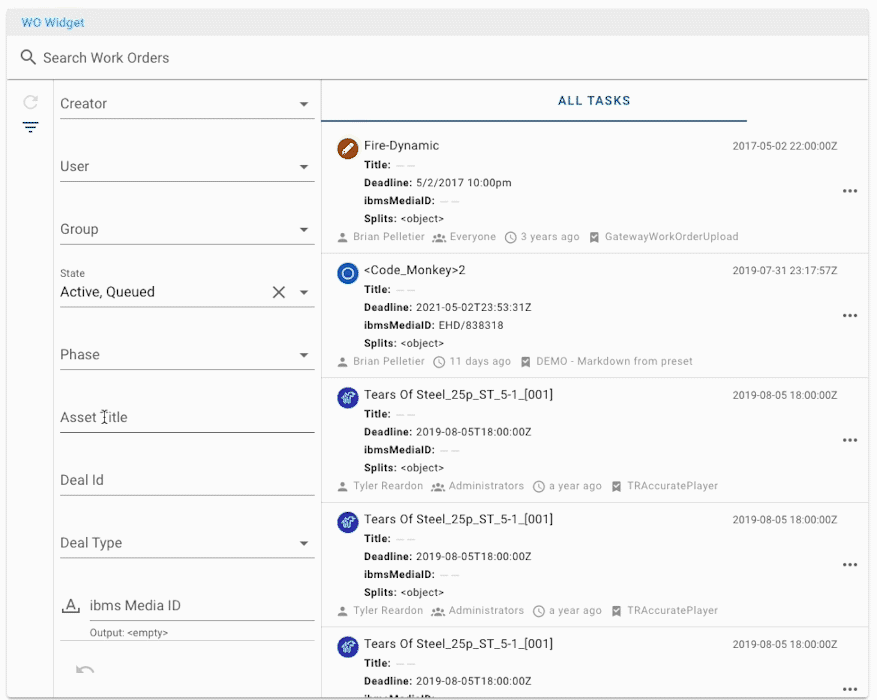 Metadata can now be used as search criteria for workorders.
Rally Access
Metadata-Driven Content Verification and Modification
Updates to Rally Access help to standardize entries, reduce error, and increase operator efficiencies across content verification processes.
Rally Access Panel for Adobe® Premiere Pro CC®
Rally Access time-based metadata (TBMD) fields auto-increment indexes (e.g., Segment1-Segment3) based on the location of the timeline, and this functionality has been enhanced to mix a field with indexes (e.g., segments) with a field without indexes (e.g., credits) in the same category.
The addition of metadata relationships enables users to configure metadata fields that changed based on the value entered in other fields. This capability supports sophisticated metadata entry use cases, where dependencies between fields are crucial to simplifying operations and eliminating data entry errors.
Accurate Video Validate Updates
The new Accurate Video Validate version allows control over naming of the status for a completed workorder as well as the naming of the manual marker track. By simply changing these values based on preset information, an operator can use Validate both for manual QC and compliance use cases on the same Rally system.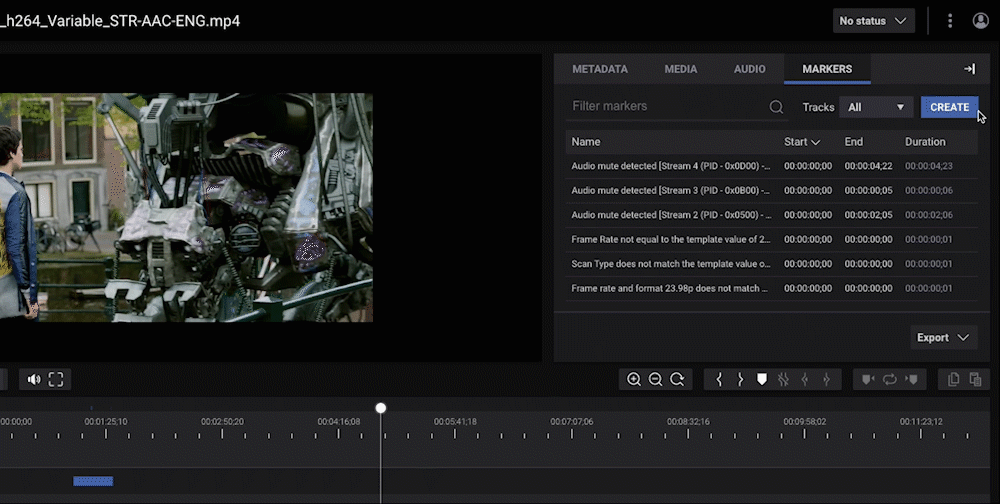 new naming controls in Accurate Video Validate
Application Services Market
Ecosystem of Best-in-Class Tools
SDVI offers the most extensive ecosystem of application services, which in turn gives Rally users a selection of best-in-class tools with which to optimize supply chain processing and cost. Five new application services were added to this ecosystem in Q1 2021.
Ateme Titan File MS
Support for the Ateme Titan File MS (microservice) implementation promises faster transcode times at reduced cost.
PixelStrings With Skywalker Sound
Support for the PixelStrings software platform by Cinnafilm brings Rally users the same feature set found in RadiantGrid. Functionality includes standards conversion and time compression, and operators also gain access to Skywalker Sound technology for any necessary audio processing.
Yella Umbrella Nebula Subtitle-Converter
Yella Umbrella's Nebula product supports caption and subtitle conversion as well as conversion based on EDL input, allowing for segmenting captions to match media segmentation in supply chains.
Telestream Cloud QC provider
Rally now supports Telestream Cloud QC, a SaaS product utilizing Telestream Vidchecker technology. As a result, this service functions using Vidchecker presets and creates the same Vidchecker outputs both in XML and PDF form, making it easy for Vidchecker customers to transition to the new SaaS provider.
Language Detection Support with AWS Transcribe
Rally support for AWS Transcribe now includes the "–identify-language" flag. This application-service update enables operators to use AWS Transcribe's language-detection system to validate language files and flag any inconsistencies found.
Contact us to learn more about any of these features or to have us walk you through a demo.