Many of the updates made to the SDVI Rally platform in the second quarter of 2022 bring users increased operational efficiency, enhanced control, or a combination of the two. Ongoing refinements across the Rally platform allow engineers and other operators to work even more efficiently and to take greater control over elements of manual actions within larger processes, resulting in smarter, more efficient supply chains.
New updates for Accurate.Video Validate offer control and efficiency gains that help to streamline content verification processes, and ongoing collaboration with Adobe has yielded further benefits with support for captions in Premiere Pro. As always, SDVI continues to expand the Rally Application Services Market to ensure that Rally users have access to the broadest selection of best-in-class tools.
Jump to:
Efficiency Enhancements
Rally Gateway: Job List Widget
Users now can add a Job List widget to Rally Gateway. With access to the same components and functionality offered by the Job List in Rally Core, admins can configure the visible columns and actions for the jobs table for each widget as well. Operators can filter to find jobs that need attention — seeing only the information relative to their work — and perform any action required for these jobs.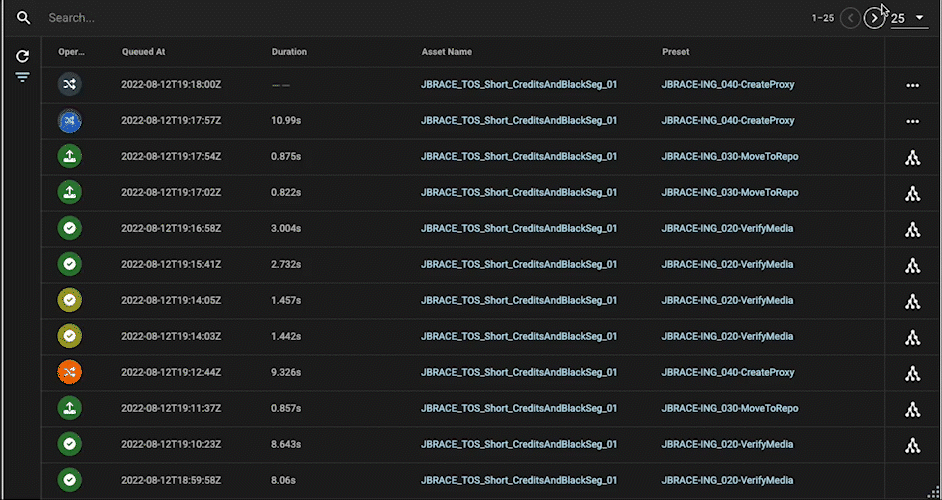 Rally Gateway: Workorder Auto-Refresh
The Workorder widget will now auto-refresh the list of tasks, even when it is filtered using complex metadata search combinations. The functionality mirrors the recently released auto-refresh of the Asset Picker Widget and will only auto refresh if a user is not currently scrolling through the list to not interfere with the user looking for a task.
Rally Core: Uploading From Asset Inventory
The Rally Core UI has been updated to permit uploading of future files directly from the Asset Inventory within the Asset Details view. As a result, Rally operators can quickly upload files with the correct name to the correct location, in turn accelerating testing and supply chain development.

Rally Core: Preview Files From Storage List Page
Files can now be previewed straight from the Storage List page using the preview functionality that already supports file preview from inside an Asset Inventory.
Rally Core: Dense Data View for Supply Chain Rules
Because various Rally Core pages have been updated to use the new table framework introduced in the Jobs Page in a recent release, more data can be displayed on these pages. One example of additional data is the inclusion of dynamic next steps on the Rules Page.
Rally Core: Jobs Page Enhancements
The Rally Core jobs page now allows users to resize and reorder columns, as well as to create and save custom filters.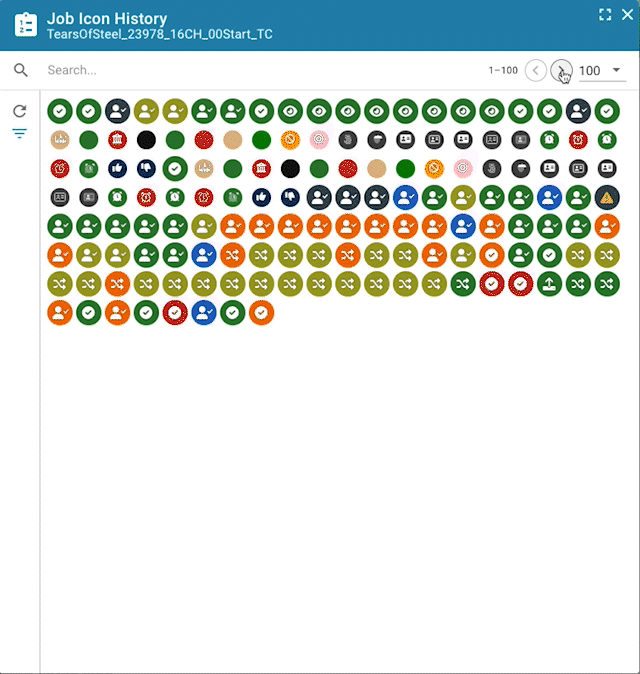 Job Icon History View
Rally operators can now view jobs in a new "dense" view that allows up to 100 jobs to be shown on a single view. To achieve this view, the interface can be configured to show only job markers. This new high-density view can show enough data in a single view to support forensics into simultaneous supply chain execution.
SDVI Mover: Support for Secret Store
SDVI Mover has been updated to support SDVI Secret Store accessing data stored in AWS ParameterStore and SecretsManager, as well as GCP stores. This update helps Rally users save time because they no longer need to configure access in every single preset.
Control Enhancements
Rally Gateway: Upload Widget Enhancements
The Upload widget in Gateway has been updated to support the recently released upload history and, with this change, allows the addition of files to an already started upload session, as well as more granular management of individual uploads. Canceled uploads also will now correctly reflect in an upload collector if the uploads are published at the start.
Rally Core: New Permission: Force Delete
Rally administrators can now control deletion rights more granularly. The Rally permission model now supports configuring both a purge and a force Delete option, with the latter option allowing deletion of Asset inventory items even if they are shared among multiple assets.
Tag Curation Update
The Tag Curation page has been enhanced so that users can list and search uncurated tags, and to curate and delete uncurated tags as well.
Manual Analyze on File Inventory
The Inventory view on the Rally Asset Details Page now supports manual generation of an "Analyze" process on any Inventory item. This capability is helpful if a newer version of Analyze might return more data, or if supply chain configuration and design does not automatically analyze files.
ComboBox Support in Dynamic Forms
Dynamic forms can now include a ComboBox, which is a dropdown list that offers the option of adding new values to the selection if the appropriate values are not available from the list set up by the administrator.
Font-Awesome 6
Rally support for Font-Awesome has been upgraded to support Font-Awesome 6. This upgrade enables use of many new icons that can be used in supply chain and asset status markers.
3rd Party Application Updates
Support for Captions in Adobe Premiere Pro
After changing subtitle handling in Premiere Pro, Adobe added support for subtitle track import using the API in v.22.3 and later. SDVI worked closely with Adobe during the development to ensure compatibility for the Rally Access Premiere Panel. As a result, subtitles can now be brought into an Access session, although full subtitle EDL support is still limited by API support.
Accurate.Video Validate: Auto-Save Progress
Accurate.Video Validate will now automatically save any changes made by operators on a workorder. When a workorder is closed and reopened, all customer markers added to the workorder will persist, allowing for greater flexibility in operator assignment and scheduling.
Accurate.Video Validate: Custom Metadata Support
Because Rally users can now configure custom metadata to display on the Asset view in Accurate.Video Validate, operators can view more information about the asset they are validating.
User-Defined Providers
Enterprise Rally customers can now create Providers for the tools that they have developed in-house, such as transcoders or QC engines. After a Provider has been added, Rally will incorporate the external tool, using it in a supply chain and monitoring progress updates.
New Application Service
New Provider: FFAStrans
FFAStrans is an open-source transcoding engine, mainly based on ffmpeg and AVISynth, that supports advanced transcoding pipelines.
Contact us to learn more about any of these features or to have us walk you through a demo.