Last week, I had the opportunity to attend my first in-person industry event in the U.S. since the beginning of the Covid pandemic, and it was a borderline cathartic experience. I think a lot of my industry colleagues would agree with me. I knew it would be good to see so many people that I've known for years but haven't seen in-person since the end of 2019. But what I didn't expect was the genuine excitement and emotion that came with seeing them again. The level of energy that I felt from the personal interactions was palpable, in part driven by people just being excited to be with people again. People were able to engage and interact in large part because of all the safety precautions that the HPA took to bring us together as safely as possible.
Kudos to the HPA for all the work (and expense!) they put into creating a space that was as safe as possible. With an audience that was fully vaccinated and all with pre-arrival negative tests, I truly felt like I was part of a safe circle. Adding even more protection, we were required to provide a daily attestation of our health/test status and wear N95 masks everywhere except while eating or drinking. While we are never going to be risk-free, I certainly felt less at-risk with the HPA audience than I do when I go to the grocery store.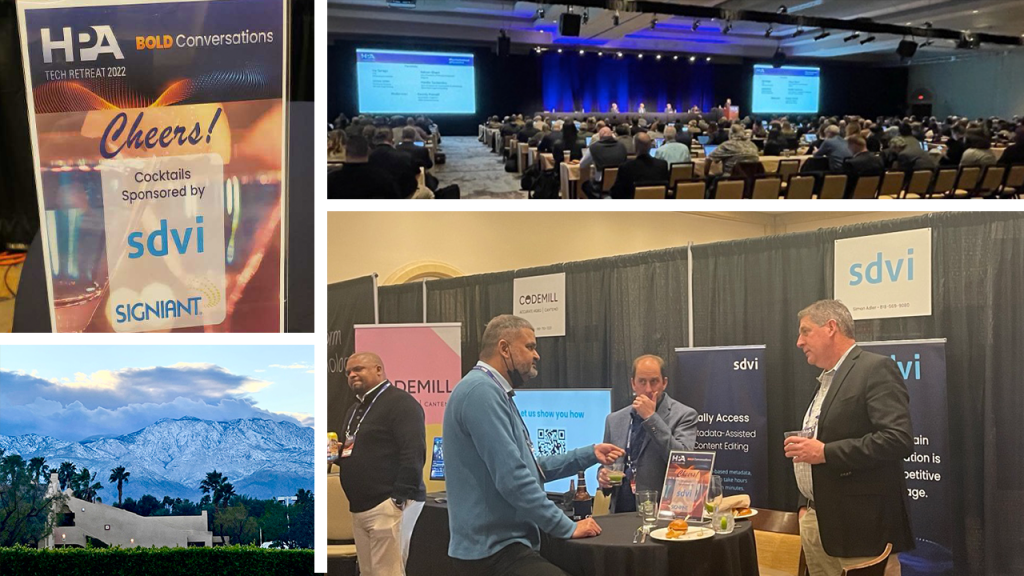 The Retreat was a great reminder of the power of personal relationships and direct in-person engagement. It was also a testament to the ability to create a "safe" space using a reasonable collection of actions. Nothing beats engaging with colleagues in person, but being able to do so while embracing a shared sense of smart risk management made it all the better.
Over the past two years, we've learned how to conduct business via Zoom and Teams, and largely, we've all figured it out. Business still happened, products were still launched, and new customers were still acquired. But one hour in the Innovation Zone at HPA accomplished more than dozens of Zoom calls. Things just move faster, and more is communicated when people are face-to-face. Nuances communicated in the way someone smiles mean way more in-person than on a video screen.
During the pandemic, we've all participated in virtual events because we had to. But in reality, virtual events mean virtual audiences: more than half the audience is paying attention less than half the time. How great it was to be in sessions at HPA where the audience was actively there, listening and learning. Q&A was engaged and meaningful. Zoom may be sufficient for product launches, but it can't approximate the impact of in-person sessions for thought-provoking dialogue about where the industry is headed. Thanks again to the HPA for bringing together so many industry leaders who have unique (and sometimes conflicting) perspectives on the future of M&E technology.
While the HPA sessions were inspiring in their own right, it was the impromptu conversations with my colleagues who were not on the panels that made an in-person event so meaningful. One aspect of the M&E technology industry that I love is that there are so many smart, dedicated people who have amazing ideas about where we are headed. Spending time at breakfast roundtables, ad hoc lunch tables or having a glass of wine in the Innovation Zone, I was continually reminded of the brilliance of so many people who are either innovating or asking questions about how we can solve a tough technical challenge. This doesn't happen on Zoom. Period.
I went to HPA to see how an event with 700+ people could be done in a time where we are learning how to live with Covid. I am pleased to say that it can be done. And I'm now looking forward to NAB, with an audience almost 100 times larger than HPA. And while I don't think it will be practical for the NAB Show to implement the full range of safety measures that HPA implemented, I'm hoping that they look at the successful HPA model as a guide. Smart, reasonable actions can make events safe to attend again. And by making them as safe as possible, they'll begin to bring back the end-user community that all of us in the vendor community desperately want to see again. In person. Face-to-face.
I'm going to NAB. Who's going to join me?