SDVI is always refining the Rally platform to address the technical and operations requirements of its users. Here's a quick rundown of some of the Rally software updates delivered in Q2 2020.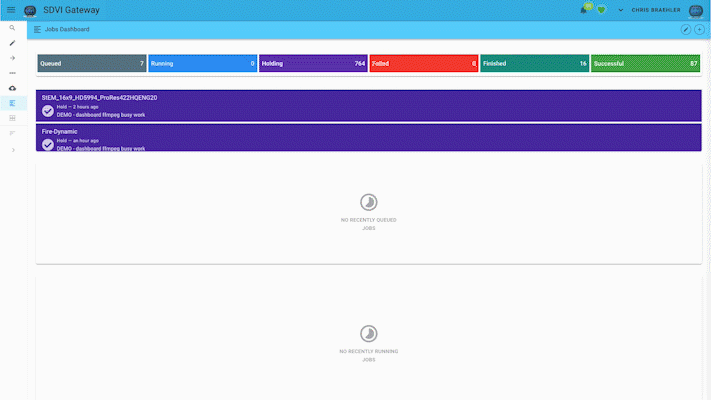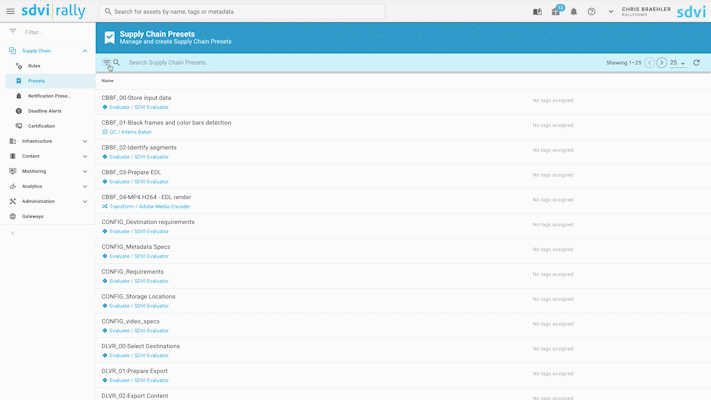 Rally Core Improvements
Enhanced Supply Chain Control on Failed Jobs
The Rally supply chain now can be intelligently configured to allow decision-based error handling on a per supply chain basis. Each in-progress job can be configured with its own custom error-path for failed transcode or QC in third-party providers, and the data necessary to make automatic business decisions along this path is passed on from the beginning of the job.
Asset Reporting Enhancements
Rally's analytics engine now brings the functionality of its job reporting to its asset reporting. If users want a list of assets that have been worked on in a given time period, they simply add the appropriate metadata fields to assets usage. In addition to enabling cross department reporting, delivery-based reporting, and many other analytics use cases, asset reports now also include the cost the user has incurred for these assets over time.
Rally Access Support for Adobe Premiere 2020
Rally Access is now available with beta support for Adobe Premiere 2020 and Adobe's new Panel APIs. With this update, Rally users can take advantage of new features in Adobe Premiere while still using time-based metadata from Rally to manually QC the content or create new compliance and edit versions.
Rally UI Improvements
UX and Filtering
Several pages in the Rally UI have been updated to enable a denser display of information on a single screen as users create supply chains and configure infrastructure. SDVI also has updated and normalized search and filtering functions across setup and infrastructure pages so that end-users can more quickly find the presets, rules, and infrastructure that require updates or changes.
Updated Jobs Dashboard in Rally Gateway
Using a new job summary widget to create multiple custom job dashboards within Rally Gateway, end users can adapt the front-end to their exact monitoring needs.
Rally Partner Ecosystem
Google Video Intelligence: Celebrity Recognition Syntax
Google Video Intelligence can now detect one or more celebrities in a video, and SDVI has enhanced Rally's video intelligence adapter to support this feature. Rally data creates events for each celebrity separately and includes both a confidence score and bounding boxes.
RadiantGrid Wormhole Support
Rally now implements the latest version of RadiantGrid Wormhole, which enables time compression with a "sheet" as input. This sheet informs Wormhole how to time-compress different segments within the source to meet requirements such as leaving black-frame segments alone.
Enhanced FFmpeg Implementation
Updates to Rally's FFmpeg implementation make it easier to transfer a regular FFmpeg command line into the Rally environment and also support running multiple FFmpeg commands in a single Rally job. This update enables several new use cases such as two-pass encoding, atomization, and output-naming macros. As a result of these changes, users can run FFmpeg jobs with all their functionality alongside enterprise transcoding solutions without compromising on farm and infrastructure management.
Updated Piksel Provider
The Piksel Fuse IQ provider, which enables segment detection and supports verification that all parts with text overlays are present in the textless version, now includes PDF reports (generated by the provider) as well as bounding box information. All this information is stored within Rally and available in supply chain steps to enable automatic stitching of full textless versions, as well as the import of data into Adobe Premiere using Rally Access.
#products #Rall #Adobe #Access